End of the World: Sleep Depraved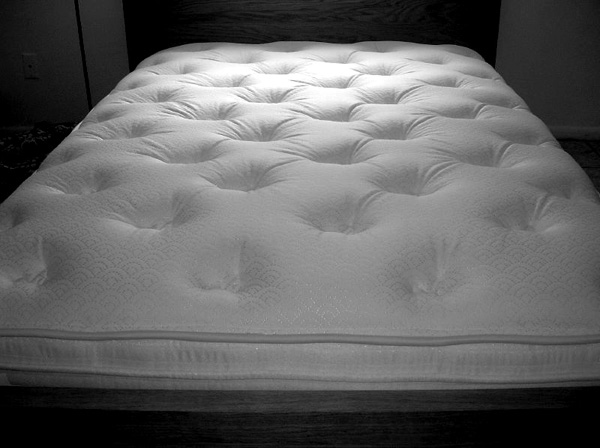 By Alex Berenbeim
Over the year that I spent in solitary at Wien, I hatched a scheme to break out. I wanted my own space and thought I deserved it. To manifest this dream in reality, I needed a roommate, who I quickly found: a non-Columbia student I was acquainted with in the classical sense—I had met her a few times in person and we'd had some lengthy correspondences. I found a place. I paid for it. I moved in. I opened accounts. I took on the responsibilities of an adult. I needed a mattress. I looked around. My roommate and I went to Sleepy's.
My roommate is a five-foot four-inch, half-Bengali, half-depending-on-the-day-Mexican-Spanish-French-German-Euro-aristocrat, hailing from San Francisco. A high school dropout, she went to a community college before transferring to NYU. Given to capricious obsessions, she still keeps herself at a remove from me, and I like it that way. She also is a bit low on cash. When she bought her mattress, she arranged for it to be delivered later that week, so that she could raise the funds from her parents to pay for it. I did not buy anything that day, although I have now convinced myself that I also wanted her bed. The next day I went to another Sleepy's, a larger store in Harlem. I tried out a number of beds. I was able to get a hold of my mother. She yelled at me when I told her the price of these mattresses. When I was told that I was in college and shouldn't have an "expensive" mattress, the double twangs of Jewish and Catholic guilt weighed on my conscience. I wondered what my classmates would think if they saw that I had an awesome bed. The answer, I would find out, was what I already assumed. I didn't arrogantly displaying the bed; they just were jealous that I no longer had to sleep on a dorm mattress.
On the day of our joint delivery, Sleepy's sent me a queen sized dorm mattress. I had bargained with the Sleepy's sales floor associate; instead of the bed that my roommate bought, a bed that I had originally intended to get, I would get a discount on a bed set, a second-rate pseudo-Serta from International Bedding. I would get it at half price, but it would be a full set.
I was a sucker. I hadn't even tried out the bed I signed for. They dropped off my mattress, set up the frame—I had a bed. Then they brought my roommates mattress in, this bulky blue thing. It had a sign proclaiming: WARNING HIGHLY FLAMMABLE, KEEP AWAY FROM CHILDREN. They set it down in her room. The mattress men went down to get the papers. My roommate then commented that the mattress set up in my room belonged to her. The mattress men quickly corrected this error upon their return. I signed the bill and quickly ran out the door, off to a meeting, having barely given second thought to the crappy mattress now lodged in my room.
However, before I could even enter the meeting, my roommate called crying, "They took my mattress back! My goddamned parents didn't put enough money in my account."
I didn't know what to do for her. I wasn't going to pay for her mattress, not at that price, and it was then that she calmly mentioned, "They're going to bring it back next Tuesday. Hopefully my parents'll put some money in my account this time."
That evening, some friends from out of town were coming to stay at my place. There was a choice between sharing my bed or sleeping on the floor. I never meant any sexual advance, but nonetheless they took the floor.
They were the wise ones. I spent one night on that mattress, the blue board of back-death. I awoke with bruises, the bed having battered my back while I slept. I had black eyes with sags of fatty skin bowed like the worst Joseph Lierberman caricatures. My friends who had slept on the floor awoke cheerfully, albeit with loud cracks of their back as they stretched. My own back gave a thud.
I immediately set out to return the mattress The sales floor associates were worthless props, receptive ears with no agency. No one was pulling their strings. They could only dial the number for me, while I was stuck with the mattress from hell. A mattress that at any moment could possibly self-ignite. Then I checked the tag. Not only had I purchased a second-rate mattress—the wrong mattress if you will—I had been sent the incorrect wrong mattress; they sent me a firm, when I had I ordered a plush. I called an interchangeable Sleepy's sales associate. After relaying the error, I was told that I had a solid case, but that I would need to call customer returns. I did, and found myself in a nightmare induced by a nasty bed business's bureaucracy. I was told to call the Sleepy's associate from whom I had purchased the mattress. This conversation ended with me being told to call Sleepy's customer service. I spent the rest of the weekend yelling at people for sending me the wrong mattress, trying to renegotiate their absurd $250 return fee.
Their argument was that I had signed off on the bed they had delivered. Whatever excuse I mustered would not suffice. I pointed out that their poorly-worded contract meant I had not received my purchase yet and could still cancel on their terms. My roommate offered her support. In solidarity she called to cancel her order. We would just buy something from Sears. She was then given a deal. She rejected the employee's price. A desperate sales person offered her the mattress at one-third its proposed value. She took it. She wasn't stupid. I was dumbfounded.
The same Sleepy's people who had folded when my roommate informed them she wanted out were giving me hell. I argued that I had been wronged, not only duped into getting a mattress that I had not intended to purchase, but was sent the wrong one on top of that. The time I was wasting dealing with these mouth-breathers was unproductive. One of the floor people's eyes popped. I huffed. I ranted. I raved. I got nothing.
While spending two hours at a Sleepy's on the phone with their regional managers, explaining how I was going to cancel my order and contact the Better Business Bureau, I accepted that I would not get my roommates' price. Hers were more pressing circumstances; they hadn't collected any money from her. I, however, had signed my life away in a hurry.
After I informed Sleepy's customer service of my ace in the hole, that I had cancelled the charge, they folded and removed their ridiculous fee, knocking off about $100. I know that I am not likely to do any better, not in Manhattan. Not with Sleepy's. I had to take what they were willing to give me. There were no more men behind the curtain, no more layers of conspiracy to peel back. I had simply been had.